Allion Labs / Fenic Tsao
Power over Ethernet has been in development for many years since 2003. Due to advances in technology, POE technology has also reached to supply 71W for powered devices nowadays. And more power also improved the function of the powered device.
Internet of Things (IoT) is getting more popular in recent years, bringing momentum to the growth of IP cameras and smart lights. Thus, it is foreseeable that POE technology will be a significant driver in the world of IoT.
What is PoE (Power over Ethernet)?
Normally, devices need power supply in order to function, which means additional power cable and outlet are required. But if devices use Power over Ethernet technology, they can export power and data signals through the twisted pair at the same time.
A complete PoE system must include Power Source Equipment (PSE) and Powered Device (PD):
PSE Device: Network Switch, Router, Hub, etc.
PD Device: IP Camera, Smart LED light, etc.
Evolution of Industry Standards
The IEEE 802.3 working group ratified IEEE 802.3af in 2003. The purpose is to integrate data and power transmission in network cable called Power over Ethernet. The standard specifies that the output power must not exceed 15.4W, and considering the power losses in cables, only 12.95 W is assured to be available at the powered device as some power dissipates in the cable.
Due to advancing technology, resolutions of IP cameras getting higher and Wi-Fi access points also need stronger signal to increase coverage. These also mean they need more power to reach these function. The IEEE 802.3at (POE+) was ratified in 2009 to meet such trends.
The latest revision of the IEEE 802.3bt standard (A.K.A: PoE++ or 4PPoE) increases the power supply again.
IEEE802.3bt standard has two different types:
PSE can supply 60W power,power available at PD is 51W。
PSE can supply 100W power,power available at PD is 71W.
POE standard compare table:
source: Wikipedia
End-Span and Mid-Span architecture:
PoE standard provides two different architectures for building PSE environment:
End-span: Use network switch which supports PoE.
Mid-span: Use an external PoE injector, install in between non-PoE switch and PD device.
These two architectures makes upgrading much easier, from the old network environment to POE network.
PoE technology becomes the new favorite of IOT
In recent years, mobile networks and mobile devices have become popular, thereby boosting the growth of IoT and Smart Home technology, as well as the PoE technology.
With the help of POE technology, traditional devices have new functions and also reduce the difficulty of deploying device.
Since IEEE802.3BT technology can transmit 100W of power in a 100M network cable, it makes the LED lighting industry begin to notice POE technology. The current lighting technology is no longer just about pursuing energy efficiency or energy saving. Major lighting industry began to accelerate exploration in the field of smart lighting, and PoE smart LED was launched.
PoE LED bulbs are connected to the PSE Switch via RJ45, and get the IP address from the Switch.
Smart Dimming: PoE LED Smart Bulbs can be connected to a great variety of sensors, transfer information such as ambient brightness to the control system, and adjusting the brightness of each LED through the POE.
Smart timer switch: Through the control software, we can control "On" or "Off" time for each PoE LED bulb.
Mobile phone control: Through the APP, you can control the lighting equipment including the above capabilities.
LED light bulb Wi-Fi AP: In the distant future, we can add a small Wi-Fi module to the LED Bold and power it through the PoE. All we have to do is to connect the LED light bulb, and the Wi-Fi signals will be covered.
Smart IP Camera:
In recent years, the public is paying more attentions on home security. Since PoE technology is improved, now IP cameras have higher resolutions and better zooming function, allowing users to watch live view by using apps on mobile phones or tablets.
Using traditional IP cameras not only requires a signal cable to transmit video data, but also needs one extra power cable for connecting to the power outlet.
By utilizing the PoE technology, we only need some simple installation steps and get the following functions:
No extra power cable is need. It can be installed more conveniently in any corner of building.
POE+ Provides high power, which enhances the resolution and zooming function of the IP camera
Auto Email alert will be sent as notifications to users
Remote monitoring via mobile APPs
Two Way Audio function; chatting with family or hindering criminals
To save video data directly to your NAS or computer.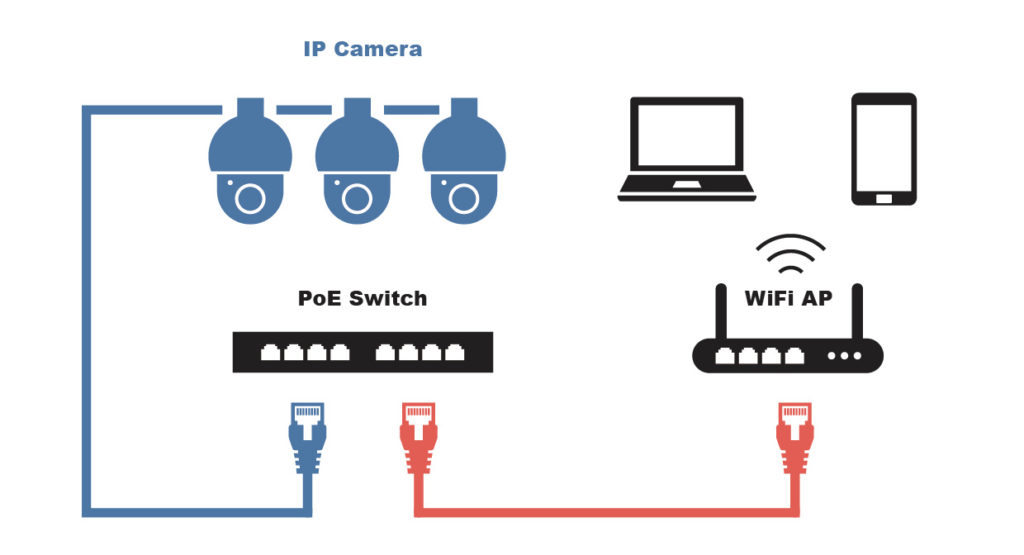 Risks of PoE technology
PoE technology brings convenience, but it also brings risks. Manufacturers, sometimes to save costs, produce poor quality products, design a non-standard PoE switch or PD device. Therefore, it is difficult to maintain the POE system.
We classify POE equipment risks into two categories:
PSE Type: Power supply stability is the main risk of PSE product, and whether the design complies with the IEEE802.3 specification. If a PSE power supply is not stable, it could lead toPD equipment to be easily damaged and unstable. For PD vendors and end-users, a stable and compliant PSE is very important.
PD Type: PD products are powered devices in POE systems and they should comply with the IEEE802.3 design specifications. To avoid designing PD products that are not compatible with PSE and cause difficulties for users to install. It is also possible that PD device may not work because of not compliant with the specification.